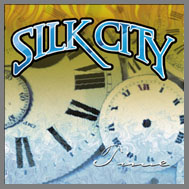 SEE THE REVIEWS HERE!
---
THE SONGS
1. Think It Over One Time 4:10
2. Velverde 4:28
3. Time Slips Away 4:25
4. Marche Funebre d'une Marionnette 3:03
5. It All Adds Up To You 3:54
6. Quero Ser Tu Sombre 5:26
7. What You Don't Know 4:10
8. Lily and Maya 4:03
9. Kentucky Babe 4:14
10. Trailer Tracks 2:17
11. Time 3:42
12. Good Night Tessa 6:12
13. Busted Loose 5:32

---
Time was when Barry Mitterhoff, Danny Weiss and Larry Cohen were the hottest handful of string players in the bluegrass/Newgrass arena, --- at the core band of Tony Trischka & Skyline. Along with Tony's brilliant banjo and Dede Wyland's lovely voice Skyline was a full tilt, crowd pleaser a festival fave from Telluride to Newport and a recording group to be reckoned with. Even in the days when Skyline was morphing and finally called it quits, the trio played on --- and on, and on. For a while they called themselves The Three Happy Fellas, or The Happy Fellas or The Fellas, but eventually settled on SILK CITY (the title of Barry's solo-project on Rounder Records - taken from the nickname for Barry old hometown, Paterson, New Jersey).

So SILK CITY, while not a new band, does have a new name. It's about time! Times may change, but great musicianship seems to get better. Case in point: SILK CITY. Here on a new release from Sliced Bread Records --- the trio's first new release in years, you'll hear the same high level of instrumental virtuosity that made them masters of the trade when they toured with Tony Trischka. Again, you'll enjoy same playful instrumental weave that's been their trademark and that only comes when brilliant players work side by side for so many years.

On Time you get a collection of hot, tight ensemble playing a wonderful repertoire of songs and tunes---touches off bluegrass, country, jazz and a unique arrangements of some classical pieces, one by Charles Gounod you may remember it as the quirky theme for the Alfred Hitchcock TV program.

SILK CITY seasoned this release with some striking originals, with a sentimental crowd pleaser about Kentucky and a new arrangement of a Robert Earl Keen song.
The album includes guest appearances by Tony Trischka, Richard Greene, Rob Ickes and Dede Wyland.

Time is loaded with winning performances. SILK CITY keeps up its tradition of superb playing. The music lover will not be disappointed with this winning combination.